Use the
Destiny Discover

App (Android)

Once you download and log in to the Destiny Discover app, you can start searching and reading.

To get around in the app, tap any of the following from the bottom of the screen: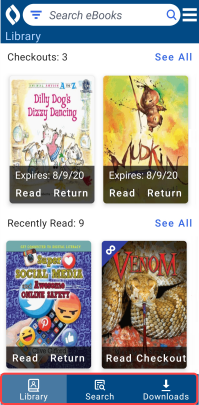 Search for resources
Tap Search at the bottom of any screen, or tap in the Search bar at the top of any screen.
Type a search term.
To choose the type of resources to find (All materials, eBooks, Audiobooks or Print books), tap .
View search results
From search results, you can see the availability of most titles. Follett eBooks, Follett Audiobooks, Lightbox, and print titles show as IN, OUT or
(unlimited copies).
Note: Other types of eBooks and audiobooks do not show availability and can only be opened from the browser version of Destiny Discover.
To view a title's details, tap its cover, and then tap Title Details.
Check out, access and return eBooks
Once you find an available eBook, you can start reading by tapping Read in the search results or the title's details. However, to ensure you can access an eBook later, check it out.
To check out an eBook:
Tap Checkout from the search results or the title's details. It automatically downloads to the device you are using.
To access an eBook on the same device you checked it out on:
Tap the Downloads at the bottom of the screen, and then tap Read.
Note: If you have an internet connection, you can also access checked-out eBooks from the Library screen.
To access a checked-out eBook on another device:
Many titles can only be downloaded on one device at a time, so you might need to remove it from one device before you can access it on another.
To remove a downloaded title, tap Downloads at the bottom of the screen, and then tap Remove.
To access the title on the other device, go to the Downloads screen, and then tap Download now.
Notes: