Navigate Search Results
Search results are organized by tabs:
Books: Includes all print books and other physical materials, as well as eBooks, audiobooks and interactive eBooks.
Collections: Includes groups of curated resources from Collections by Destiny® that are shared with your school or district.
Websites: Includes links to web resources (from WebPath Express).
Databases: Contains links to free and subscription databases (from One Search).
Open Educational Resources (only available in the Standard version of the user interface): Contains links that give educators access to teaching and learning resources.
Note: Homepage navigation varies based on the display version selected by your school: 
Standard (default version has a plain/solid background)
Simplified (varied background themes, such as: aquarium, space, kids outside or bookfair)
Standard view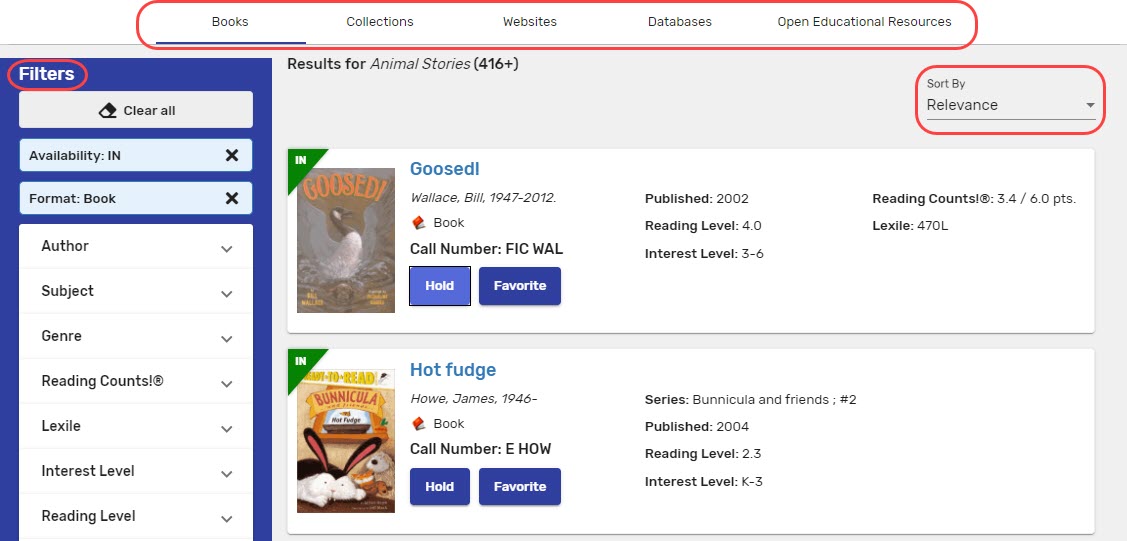 To narrow or sort your search results:
Use one or more filters.


Note: If the filters are not visible, click Filter to show them.

In the top-right corner, use the Sort by drop-down to change the sort order.

Use one or more filters to narrow your search results.
Search result options
Search results also include the following options:
Hold/Unhold

Note: The ability to place holds, and whether you can place holds on available titles, is dependent on your access level permissions.
Notes: 
The options that appear are based on the features available at your school.
To see information about a specific search result, click its title or cover image.
You can perform a new search from a search results page.